Whether it's metal teeth, a piratical eye patch or fluffy cat, James Bond villains have a distinctive personal style, licenced to thrill!  With our Sharks and Lasers: Bond Villains Night Out party only days away, we've rounded up our favorite villain style moments to help inspire your look!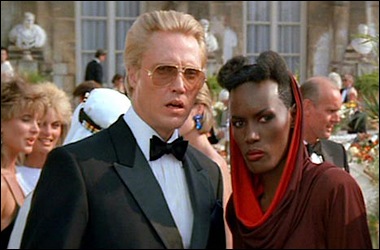 1. Max Zorin (Christopher Walken),  A View to A Kill (1985)
Trademark Look: Zorin had bleach blonde hair and opted for equestrian inspired preppy chic ensembles including crisp suits, cravats and his honey-hued aviators.
2. Ernst Stavro Blofeld (Donald Pleasence), You Only Live Twice (1967). Trademark Look: A vaguely Chinese tunic with buttons fastened all the way to the top. Accessorize with a vicious scar, a fluffy white cat and a big chair.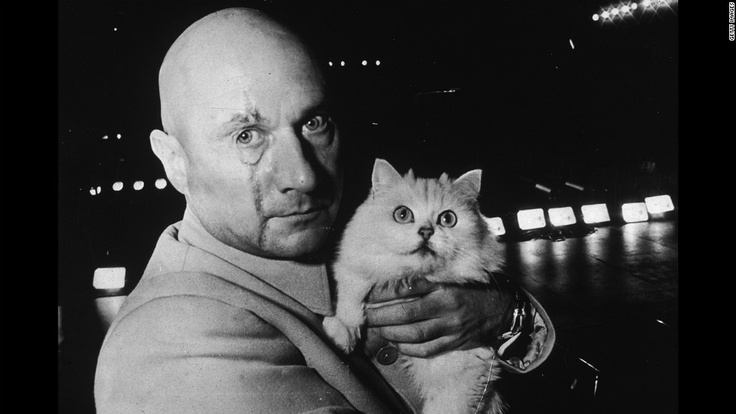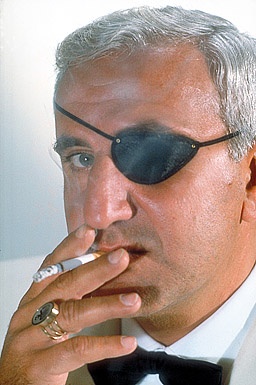 3. Emilio Largo
(Adolfo Celi), Thunderball (1965)
Trademark Look: Largo remains the best-dressed Bond baddie of all time! Roman and animalistic, he accessorized with a superb eye patch, a long stick thing (for pointing at big maps) and smoldering ciggie in a slightly camp holder permanently clamped in his mouth.
4. Dr. No (Joseph Wiseman), Dr. No (1962)
Trademark Look: The eerily calm Dr. No was consistently buttoned in a Nehru-collared tunic: the first of many in the Bond villain pantheon. Add black metal pincers instead of hands, and a dash of the Napoleon complex.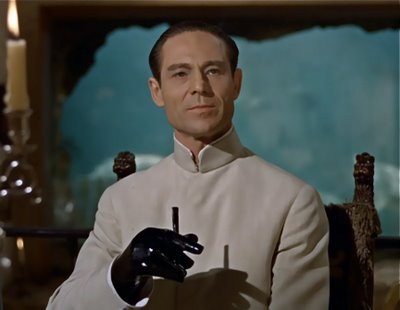 5. Francisco Scaramanga (Christopher Lee), The Man With The Golden Gun (1974)
Trademark Look: Scaramanga's easy style is an ode to the leisurewear craze of the 70s; so the shirt-cut white suit with ghillie collar makes this baddie look more like a benign pharmacist than ruthless assassin. Thankfully, his outfit is saved by choice accessories: nice cufflinks and a golden cigarette lighter that turns into a hand gun.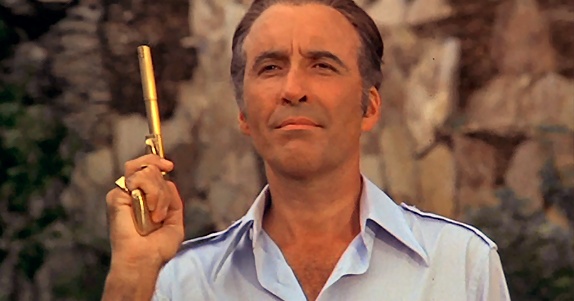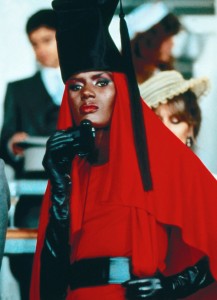 6. May Day (Grace Jones), A View To A Kill (1985)
Trademark Look: Cutting-edge fashion maven and villainess May Day is a fashionista's dream! Eccentric haute couture, preferably leather, sky-high heels combined with her signature flat-top hair draped in brightly hued snood.
5. Jaws (Richard Kiel), The Spy Who Loved Me (1977) Trademark Look: Sporting a behemoth physique and a set of menacing steel teeth is the key to achieving the Jaws' look. Thankfully Richard Kiel is the featured guest at Sharks & Lasers! Of course, you could also rock your very own  Jaws' signature tee. Now available at the Spy store!
6. Auric Goldfinger, Goldfinger (1964)
Trademark Look: Goldfinger's no match for the ever stylish Bond. In Fleming's novel, Auric's golfing wardrobe is described as a graceless arriviste who has gone to an outfitter's and said, "Dress me for golf – you know, like they wear in Scotland." Think Tweed and sports casuals.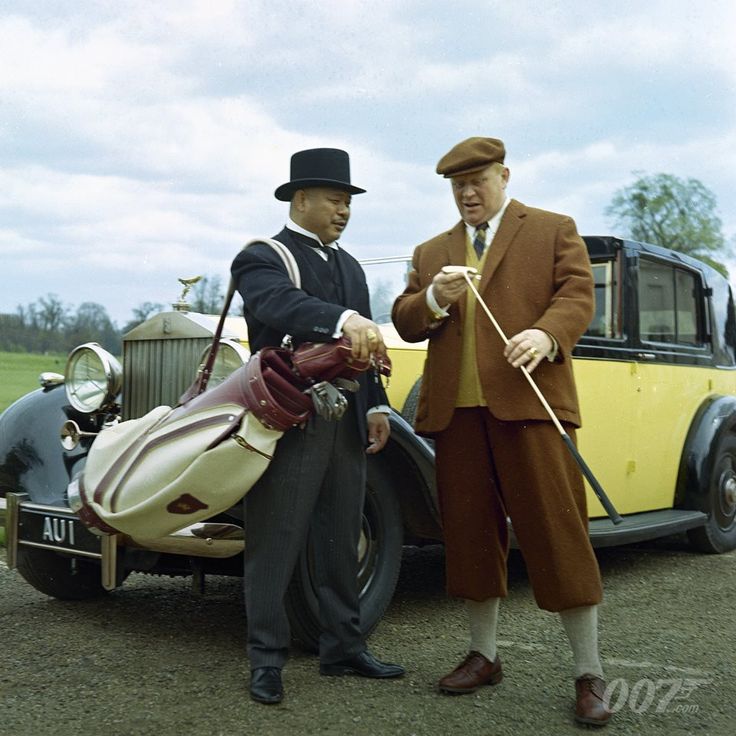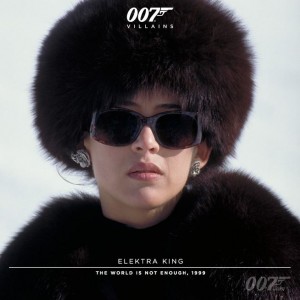 7. Elektra King (Sophie Marceau)
The World Is Not Enough (1999)
Trademark Look: This twisted oil heiress is straight up Russian royalty, meaning exotic prints, super luxe fabrics and of course, fur trapper hats.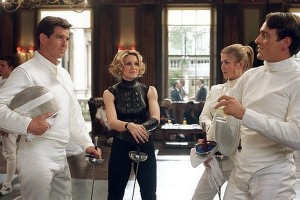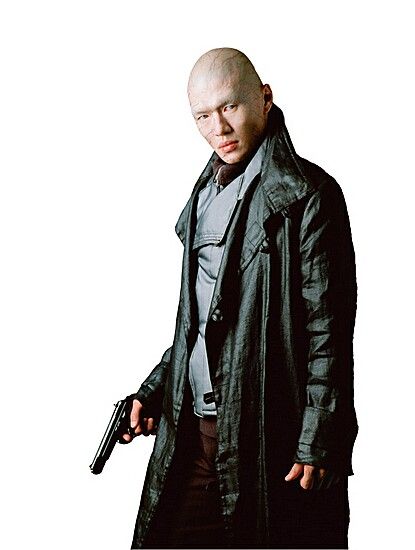 8. Gustav Graves (Toby Stephens), Zao (Rick Yune), Die Another Day (2002) Trademark Look: A true dynamic duo! British billionaire Gustav's styling is every bit the bad boy persona – fencing attire and dapper suits. Henchmen Zao sports North Korean military chic and of course, a bedazzled face!
9. Le Chiffre (Mads Mikkelsen), Casino Royale (2006)
Trademark Look: Interestingly down on his luck in the villain stakes, Le Chiffre is deeply sinister, it shows in his style, which is entirely in black. He has a dead eye that constantly weeps tears of blood.
10. Silva (Javier Bardem), Skyfall ( 2012)
Trademark Look: Floppy blonde hair with a hint of madness? Silva is a creature of change, channeling old school Miami, to a smart white jacket and even prison pajamas. Adopt a keen Spanish/British hybrid in your voice and voila!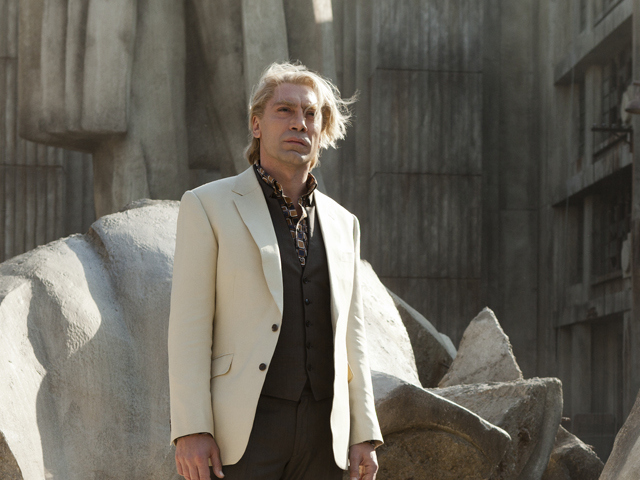 For more ideas on the best villainous gear for Sharks & Lasers, visit our Pinterest board.