After WWII, East Germany had a hard time establishing a functioning industry. Not only had almost everything been destroyed during the war, but the Soviet Union dismantled most of the factories that were left. A steel embargo of the US, and the severe lack of its own resources made it even more difficult for Germany to build cars. However, necessity is the mother of all invention — East German car builders found a way to develop their own car. The Trabant or Trabi, which means "satellite" or "companion" in German, was a name was inspired by Soviet Sputnik, and became an icon for East Germany throughout the decades.
In honor of the Spy Museum's upcoming Eighth Annual Parade of Trabants, here are 10 interesting and fun factoids about the little automobile that could!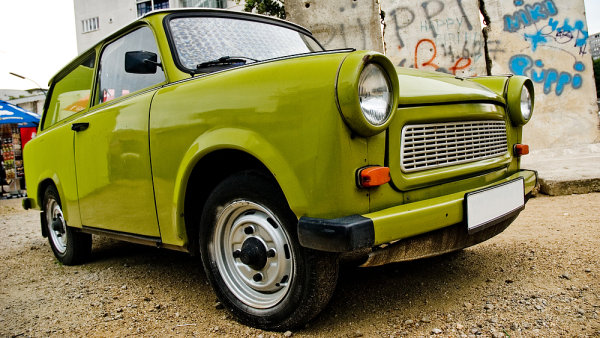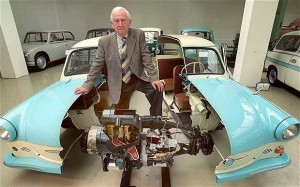 1. WERNER LANG — The development of the Trabant was a difficult process. Werner Lang, the father of the Trabi, faced a government unwilling to offer its people a decent car. Therefore, Lang and his colleagues developed it secretly. Only few were involved in the development of the Trabant models. Among those people were only the managing director of VEB Sachsenring – the company that built the cars – and those directly involved in the development. However, the model P601, which came into production in 1964, was the last model they could develop. The Germans would continue to produce the same car for 26 years, and thus became a symbol for Communism's inefficiency and aversion of progress.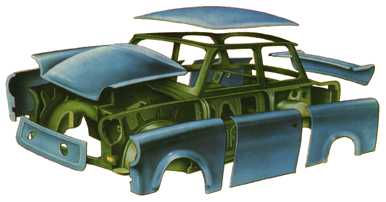 2. SYNTHETIC CAR — Since East Germany used most of the little steel it had for producing military equipment, engineers had to find another material to build cars. It was Wolfgang Barthel (10, pictured above) who invented a material which was made out of a type of cotton fiber that cannot be dyed, which made it cheap and accessible. The cotton fiber would be compressed and heated to finally be Duroplast, a synthetic material. In fact, the Trabant became the first car ever to be made partly of synthetics (seen in blue parts). Engineers stood with up to seven people on the roof to prove the materials elasticity.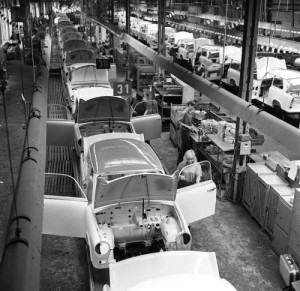 3. TRABI PRODUCTION — There have been 3,000,000 Trabants produced in the years between 1957 and 1991. That's 88,000 cars a year, or 240 a day. If you love numbers, think about this — In 2011, General Motors sold more than 9,000,000 cars, which is in one year, three times as much as Trabants  were sold in 34 years. In other words, General Motor's output in 2011 was more than 100 times more than the average yearly output of Trabants.
4. FOR SALE — What do you do when you want to buy a car? You save some money, look for a car you want to drive for the next years, and buy it. A seemingly simple process, however, this was quite difficult in East Germany. The mismanagement caused by Communism made it impossible to supply people's demand for cars. As a result, people had to sign up for a waiting list. The average waiting time: 12 years! Therefore, many parents decided to sign up for a car as soon as they got a child, so that by the time the child had a driver's license, he or she would be able to buy one. The listed form was required to be completed for anyone interested in getting a Trabant!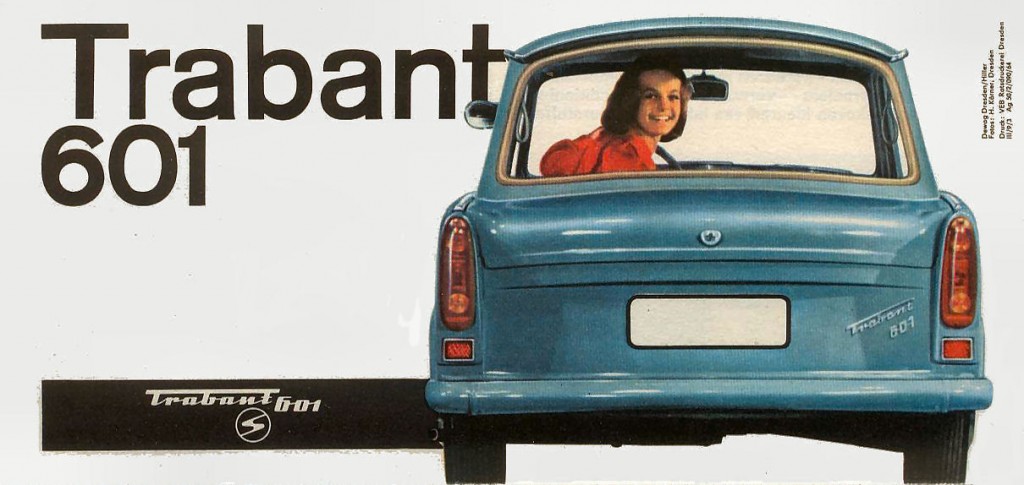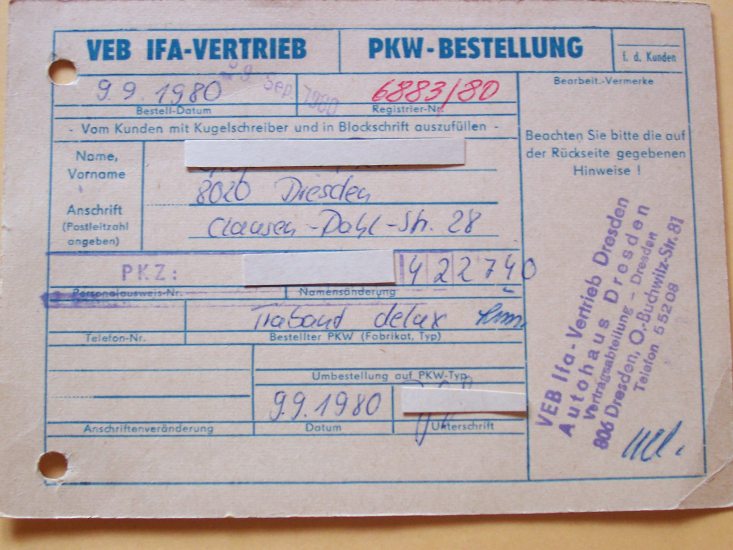 5. THE LITTLE ENGINE THAT COULD – What do the Craftsman lawn mower and a Trabant have in common? They both have 26 horse power engines. However, only the latest Trabant model, the P601 had a peak horsepower output. The first model had 18 horse power, and was able to drive 60 mph, compared to the 70 mph of the P601. That was slower than average cars in other countries, but certainly by much. Speeding was not a problem in East Germany.
6. LOVE/HATE —  It is a well-known fact that most East Germans had a love/hate relationship with the Trabant. It may be hard to imagine why people would have loved this plastic car, but during that era, owning the car meant mobility, personal freedom, and it also conveyed some sort of status. But others truly hated the Trabant, and for good reason — they had to wait for it up to 16 years, it was difficult to transport bigger families, and its technology was not up-to-date anymore in the last decade before the end of Communism.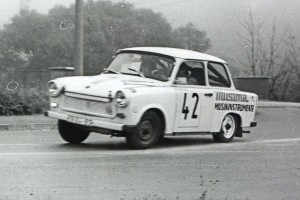 7. Go Trabi, go? If you watched a car rally with the Trabant as a participant, who would you put your money on? Certainly not the tiny car! But it turns out the Trabi did amazingly well in rallies all over Europe. It won more than 180 trophies in its class. The big wins included a three-city-rally Munich-Vienna-Budapest, a rally in Monte Carlo, Acropolis, and many more, adding up to 845 starts in 35 different rallies. Not even BMW stood a chance against this little wonder car. All those victories helped promote the car's export sales, especially to Hungary.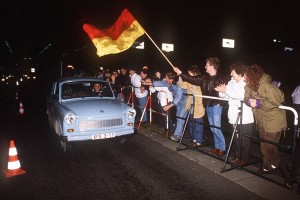 8. FALL OF THE WALL – After the Fall on November 9, 1989, millions of people from East Germany drove with their Trabants into West Germany, causing traffic jams that were all together more than 600 miles long. West Berlin had sheer masses of cars flooding its streets. Traffic was on standstill on the Kurfuerstendamm, one of the main streets of Berlin. The Trabi transformed from a symbol of Communism, to a symbol of "Die Wende," the process of the change from a communist nation to being a part of a democratic nation.
This November commemorates the 25th Anniversary of the Fall of the Berlin Wall.
9. TRABANT FIT – How many people can fit into your car? Four, five, seven? Now, how many people do you think can fit into a Trabant? We, here at the Spy Museum wanted to solve this conundrum – we tried to get as many people into a Trabant and still manage to close the doors. It was no easy task!
Some enjoyed it, some not. We stuffed as many people in as possible, and the grand total was 16! Can you remember the last time you had 16 people in your car?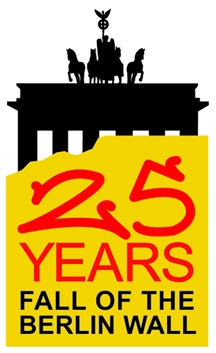 10. EIGHT ANNUAL PARADE OF TRABANTS — Twenty-five years after the Fall of the Wall in 1989, the legacy of the Trabant still lives on. Annual Trabant parades are held all over the world, but the ONLY parade in the United States is hosted by the International Spy Museum!
On November 8, some of the finest Trabants in the US will chug their way to SPY to celebrate our Eighth Annual Parade of Trabants! Drop in to view the vintage cars, which will be parked in front of the Museum on F Street, NW, and enter a raffle to win a ride in a Trabant. While the cars are on display, experts will be on hand to answer questions about Trabants, the Cold War, and Communism, while a German band provides festive music. Check out our own Checkpoint Charlie and "Fall of the Wall." This event is free and open to the public; 10AM-4PM.