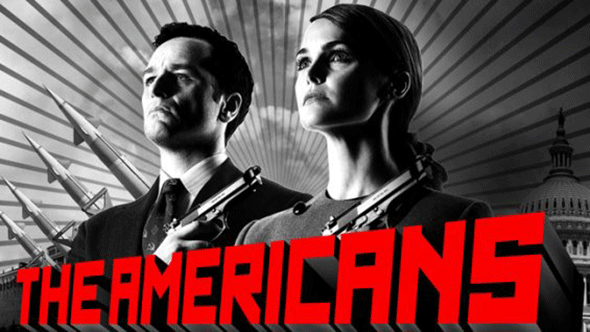 The Americans debuted on FX on January 30, and I've got to say that I quite liked it.  Matthew Rhys and Keri Russell play "Phillip and Elizabeth Jennings," two officers from the Soviet KGB who have been sent to the United States as "illegals"—very long-term deep cover operatives.  When the show starts in 1981, the first year of the Reagan Administration, Phillip and Elizabeth have been here 16 years.
The Soviet KGB really did run this sort of operation and the Russian SVR continues to do so, as we were reminded in June 2010 with the arrest of the ten Russian illegals.  And illegals don't just come to the United States.  Germany has recently put a husband and wife team of alleged illegals on trial.  There is another aspect of the show that rings true: Phillip has started to go native.  He observes that everything seems "brighter" here in the United States, and he openly toys with the idea of defecting to the United States.  This is a real problem that the illegals program faced, at least during the Cold War.  Sometimes illegals would find the United States or whatever western country to which they were posted more inviting than the oppressive and drab communist country from whence they came.  In fact, the International Spy Museum contains spy gear from one illegal who thought better of his work and defected to Canada in the 1960s.
Other bits of realistic tradecraft include the use of dead drops and Phillip's false flag recruitment of a junior FBI employee.  Mind you, I'm not sure an illegal would ever do that, but it's a real intelligence tactic.
What's not so realistic, of course, is the shoot 'em up aspects of The Americans.  In reality, illegals try to keep a low profile.  But then, this is television; it's supposed to be entertaining.  I can forgive that.
If you want to dig deeper…Kevin Costner's 1987 film No Way Out is another filmic treatment of the illegals program.  For non-fiction books, you can do no better than Christopher Andrew and Vasili Mitrokhin's The Sword and the Shield.  (Mitrokhin was KGB archivist who took thousands of pages of notes on KGB files and brought them out to the West after the Soviet Union collapsed.)  For first person accounts, try Alexander Kouzminov's Biological Espionage: Special Operations of the Soviet and Russian Foreign Intelligence Services in the West or Vladimir Kuzichkin's Inside the KGB: My Life in Soviet Espionage.